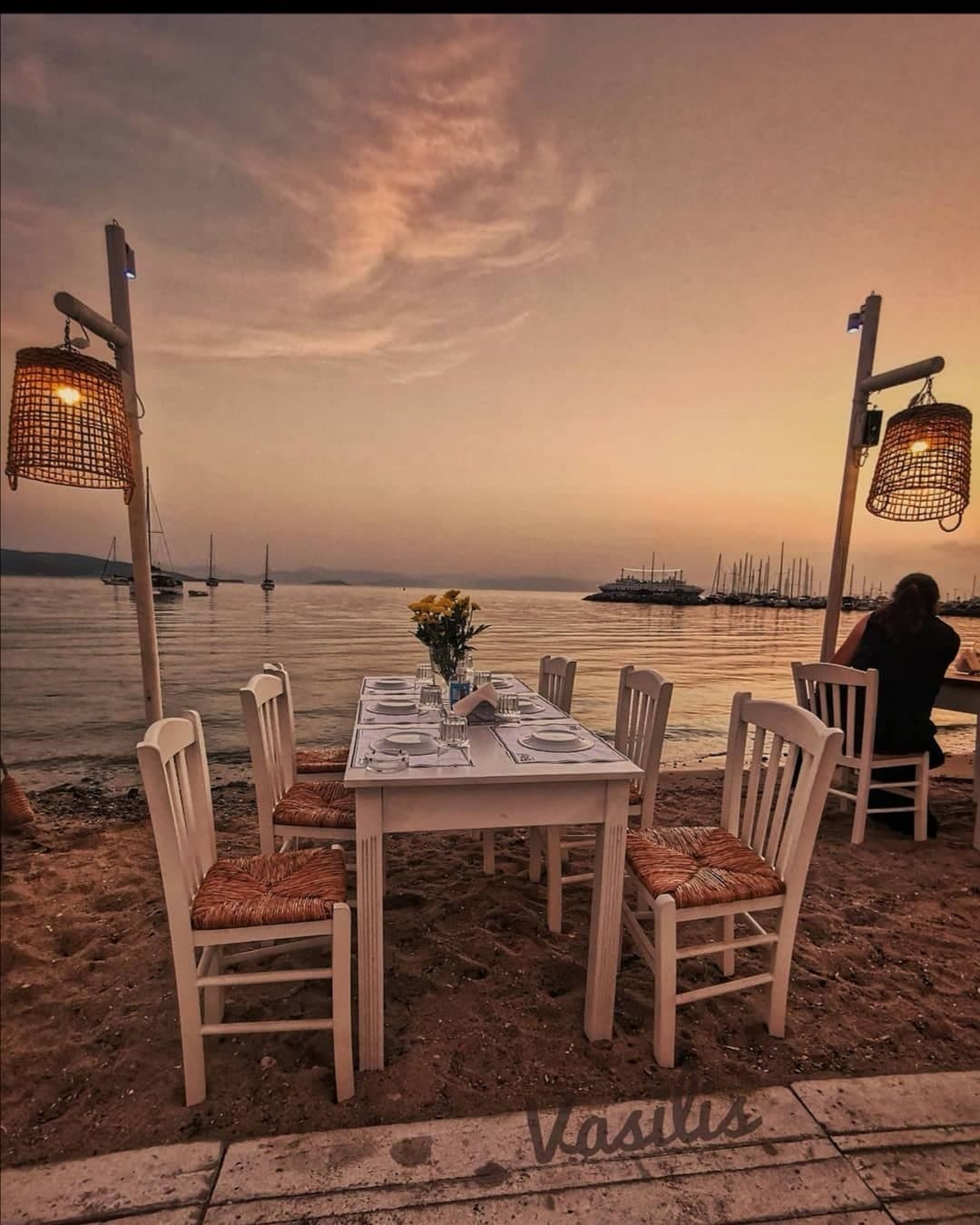 On Aegina you get delicious traditional Greek dishes with anything but a typical taste. That is why you want to taste Aegina.
Pistachios:
As soon as you touch land, in the harbour, you'll see many stands of pistachios here and there. A pure pistachio heaven! The beautiful green nut has found a sanctuary on the island of Aegina – so much so that it's gained European Union protection. You will find all kinds of products like; pistachio butter, pesto, paste, nougat, preserved in honey, candies, baklavas, etc. The soil and dry climate of this idyllic Greek island produce the protected Fistiki Aiginis variety (literally meaning pistachio of Aegina), considered the best in the world in terms of taste and quality. You can't possibly leave Aegina without tasting its famous (and delicious!) pistachios.
Pistachios have found their way into almost every course of a meal. During the meze (started) course it is not unusual to see them mixed in with the local cheese spread. Local feta encrusted with pistachios is a local twist on saganaki (fried cheese), and melitzanosalata (Aubergine dip) may have them finely crumbled on top. You also find them in salads and certainly with entrees, including chicken and seafood. Pistachio pesto? You bet. What about desserts? 70% of desserts seem to have nuts, honey, or a combination of the two, and you are going to find pistachios in the vast majority of Aegina desserts. And not just the baklava.
Seafood:
Aegina cuisine includes a large number of amazing seafood dishes. Octopus is a hot favourite and is served in all the psarotavernas (fish taverns). Fish is either grilled, stewed, fried or boiled here, so choose what you like most. A dish that you cannot get anywhere else is the Katsoula fish. It seems to thrive in the local waters, but not on islands nearby. The only other island that seems to attract them is Rhodes at the other end of the Aegean. So, if you want to taste this delicious sole-like fish, you need to go to Aegina. Dishes 'not to miss' are octopus with pasta, swordfish in wine and tiganosoupa (fish soup). Perdika harbour and the municipal fish market are well-known for their seafood delicacies. Other seafood dishes of note include oysters, mussels, lobster, prawns and calamari. Taramosalata is a very delightful fish caviar paste.
Meat Dishes:
It may seem that there are not many meat dishes on Aegina, but that is not true. You can find paydakia, a dish with lamb chops and roast potatoes in every tavern. There are also tavernas where only grilled meat is served. The most popular dishes are brizola, kotopoulo and bifteki. Moussaka is a dish every tourist should taste. It is a layered dish made with minced meat, egg-plants and potatoes with béchamel sauce. Pastitsio is baked pasta dish with ground meat and béchamel sauce. A delightful and popular traditional meat is roast lamb or goat with a pistachio crust.
Vegan & Vegetarian:
Aegina is great for vegetarian travelers too. There are many vegetarian meze (starters); like roasted or fried eggplant, fava (yellow pea puree), zucchini fritters, giant beans called plaki, stuffed tomatoes and more.
Fruits & Vegetables:
On Aegina island, fruit, veggies, herbs and other local produce a showcased on fishing boats in the harbour which is quite the show! A lot of fruits and vegetables. These items are predominantly for local consumption only and are mostly seasonal. Frozen vegetables are not found on any menu. Be sure to look for olives, figs, and honey and of course the delicious pistachios.
Desserts:
Mouthwatering dessert recipes of the island are based mainly on the pistachio of Aegina. This delicious fruit is found in the vast majority of desserts: in pasteli with sesame and honey, in nougat, in cake with peanuts and semolina, in gelato, in traditional kourabiedes and baklava. However, it is also found in newer recipes, as in those of cookies and brownies. The best of all is the sarikia of Aegina. This is a traditional dessert made with butter and syrup.
Local cheeses include:
Gkeremezi – made with goat or sheep's milk. It is soft and dry with a sour taste.
Ladotyri – this hard cheese has a rich, round flavour. The longer it remains in oil, it gets sharper and more peppery in taste. On Aegina, it goes for eight months, giving it some kick.
Feta – You think you know what this is, but it's different (better) in Greece. Try it if you don't believe me.
Graviera – is a mixture of goat, sheep and cow's milk creating a sweet and fruity taste.
Wines and Ouzo:
Ouzo and Retsina wine is a must try.
Ouzo is an anise aperitif better served with ice cubes and a touch of water served in small bottles. Ouzo is the drink of choice to mix up with a few mezedes (small plates).
Retsina is a wine preserved in pots sealed with Aleppo pine resin, which gives it its particular woody taste. This manner of preserving wine (before the introduction of barrels) is around 2000 years old. A technique and tradition still alive today.
Currently, there are no wineries that you can visit on the island. However, local wines are available at several restaurants and shops in Aegina Town. To taste Aegina, you also need to sip it.