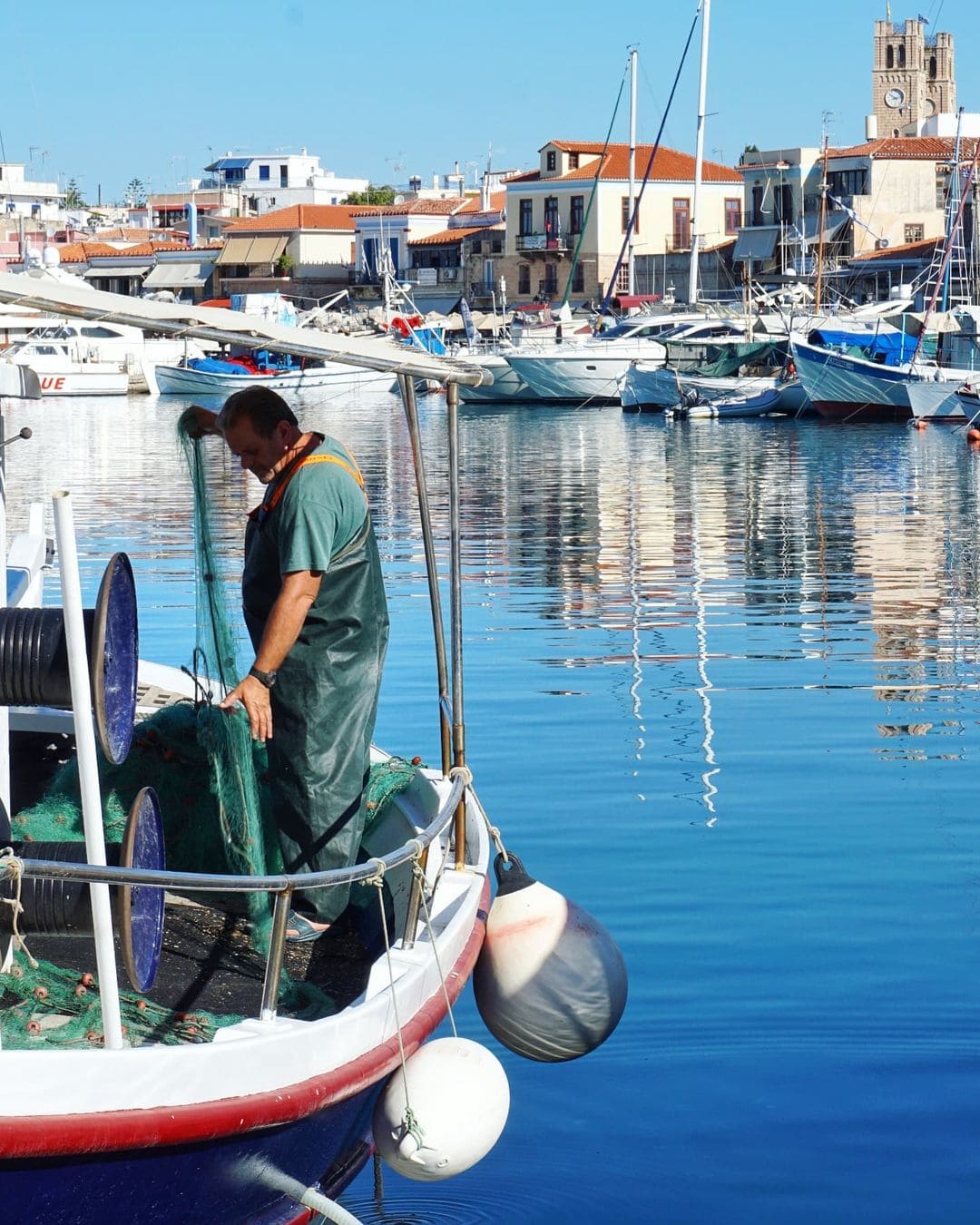 Only an hour from Athens by ferry, if you're looking for unique monuments, history, and culture, but also to relax on beautiful beaches and splurge on fresh fish and delicious pistachios, Aegina is a must-visit place to add to your bucket list. The island itself is so beautiful that the Huffington Post declared it "the most beautiful Greek island that you haven't heard of".
Aegina, (modern Greek Aíyina), is a rather small island, yet one of the largest in the Saronic group. Covering an area of less than 100 sq km, it measures about 15 km from east to west and about 10 km from north to south. Most part of Aegina island is a rocky formation, an ancient volcano which is currently extinct. Mount Oros, the highest point of the island, is nothing but a beautiful hill covered in rocks and small bushes. The northern plains and hills are cultivated with vines and olive, fig, almond, and pistachio trees for which Aegina is famous for, while along the east coast stretches a ridge of light volcanic rock known as trachyte. The highest point is conical Mount Áyios Ilías (ancient Mount Pan Hellenion), at 1,745 feet (532 metres). On the west coast the chief town and port, Aegina, lies over part of the ancient town of the same name.
The island of Aegina is really surprising considering its proximity to Athens. The island is quite traditional and while tourism is in evidence, it is still largely Greeks who come here for the day or even for their summer holidays. Most of the ouzeries and restaurants in the back streets have a Greek clientele and serve food that locals love, and the most adventurous tourists would be likely to try. There is a great covered fish market in town, a sort of junior version of the public market on Athinas Street in Athens, and there are several small traditional restaurants that are in and around it. The fishing village of Perdika is another popular place and is full of nice fish tavernas. Perdika is also a popular stop for people on sailboats and yachts and has a small but nice beach nearby.
Aegina has long been a retreat for some of Greece's most prodigious writers and artists – Zorba the Greek author Nikos Kazantzakis, Nobel prize-winning poet Odysseus Elytis, and expressionist master Dimitris Mytaras to name a few. Tap into Aegina's arty side with a visit to the former studio of sculptor Christos Kapralos, about 3 km north of Aegina Town. His most famous bronze, Mother, peers out over the expanse of blue sea.
Even though the island small, it boasts a great number of sights and natural beauties, the highlight of which is the famous Aphea Temple. Interestingly, it forms an equilateral triangle with the Parthenon and the Temple of Poseidon at Sounion, the so-called "holy triangle" of antiquity. Aegina town, the capital of the island, stands out for its well-preserved buildings. The diversity of building styles, covering many eras, make for an interesting architectural tour, especially if you add the "modern" 1960's vacation homes by famous Greek architects, like Pikionis. The island's relaxing atmosphere and proximity to the capital have convinced many artists to move permanently here, along with many Athenians wanting to evade the densely urban character of Athens. On the outskirts you can find charming little villages with distinctive traditional character, such as Kypseli, Agii and Vagia as well as organized tourist resorts like Agia Marina, Perdika, and Souvala.
Aegina is also surrounded by many smaller islands (Agistri, Moni, Metopi, Diaportia, Lagouses, Kyra, Dorousa, Spalathonisi, Anonyma) that can be reached by boat from the port of Aegina.
From pleasant weather to gorgeous scenery, spectacular beaches, history, and plenty activities to choose from, Aegina is an incredible destination which definitely deserves a visit — especially if you're looking for an island which is close to Athens. Believe me, when I tell you, this is what paradise looks like.