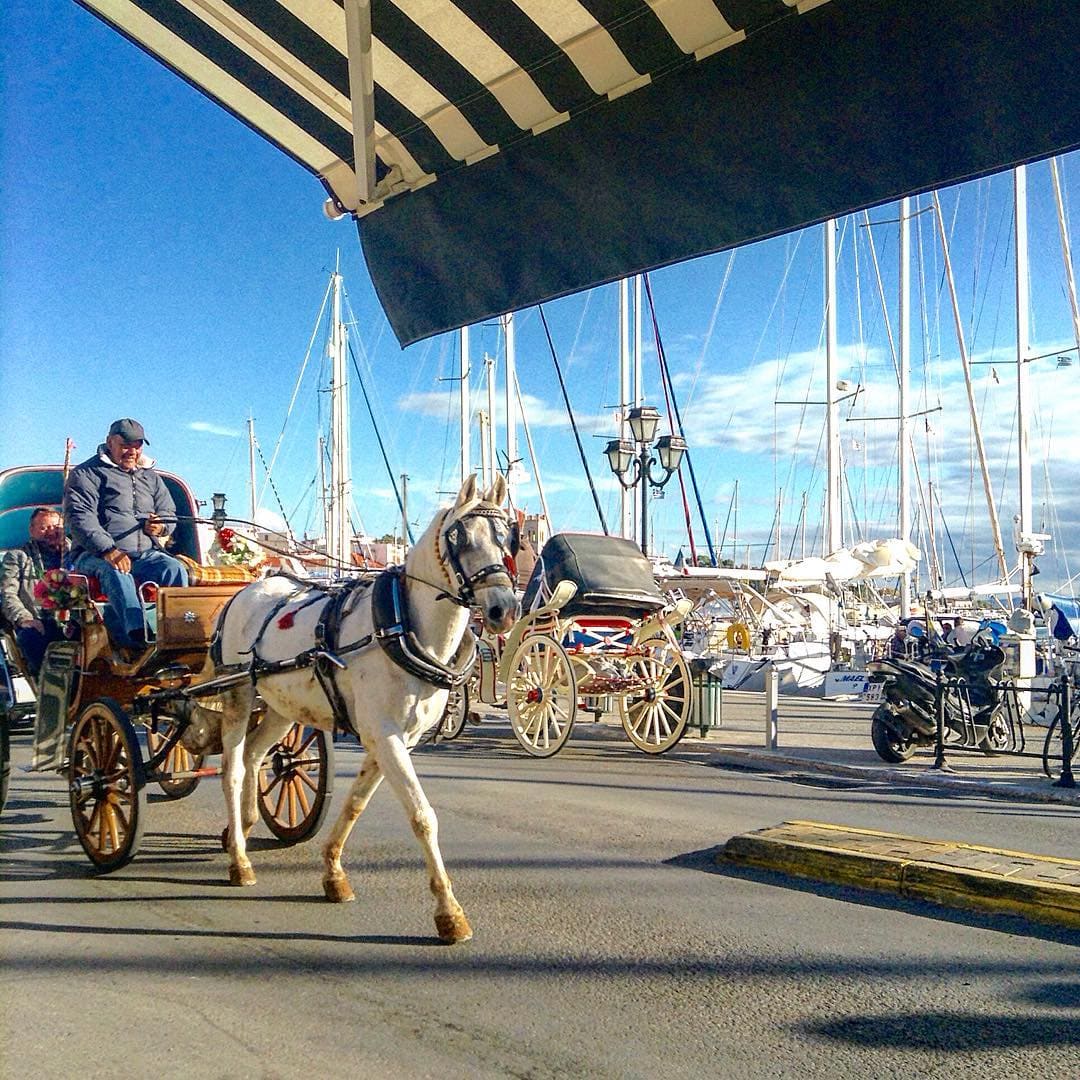 There are a few ways to get around Aegina. You can rent a car, motorcycle, ATV or bicycle, or you can take a taxi or public bus. You can get around by foot, water taxi or a Horse Carriage fairly easily too.
Car, Motorcycle & Bicycle Rental:
Numerous outfits hire out vehicles. Prices start from €35 per day for cars, €17 for a 50cc motorcycle and €8 for bicycles.
Note: This information was accurate when published, but can change without notice. Please be sure to confirm all rates and details directly with the companies in question before planning your trip.
Taxis on Aegina:
The taxi stand is to the left of the port and there are plenty of taxis available on the island. For most destinations, there are set prices that are displayed at the front of the queue. It is advisable to book a return taxi if you are heading out to a remote beach. Contact: +30 2297022635 OR +30 2297022010
If you wish to take a taxi tour of the island, negotiate the fare before you set off.
Public Buses on Aegina:
There is a network of public buses that will take you to the main sites and the other towns and villages on the island. A left turn as you disembark the ferry takes you east to the bus station (tel. 22970/22-787) on Plateia Ethneyersias.
Buses from Aegina Town run several times a day on three routes across the island. Departure times are displayed outside the ticket office.
– Agia Marina (€2, 30 minutes), via Paleohora (€2, 15 minutes) and Temple of Aphaia (€2, 25 minutes)
– Perdika (€1.80, 15 minutes)
– Vagia (€1.80, 25 minutes) via Souvala (€1.80, 20 minutes)
Tickets must be purchased before boarding.
Water Taxis on Aegina:
Water taxis are another great way to circumnavigate the island and will take you directly to the beach. They will also, if needed, take you back to mainland Greece or to neighbouring islands. In case you need a water taxi, you should arrange your transfer in advance. You can call on the following phone numbers: 0030 694 4535 659, 0030 697 4084 184, 0030 693 7867 785 or 0030 697 2229 720.
Horse Carriages
Horse Carriages are common in Aegina. They carry out routes mainly in tourist places, along the waterfront of Aegina Town.
Walking and Hiking:
Being a small island it is relatively easy to see a large part of the island on foot.
For hiking enthuasiasts there are nine marked hiking trails and dozens more footpaths in Aegina for nature-lovers to enjoy the little-visited mountains and hills. There are routes ideal for all levels and ages, which you can enjoy throughout the year, but spring, autumn and winter are best should you wish to avoid the summer heat. A great route is on Mt Ellanio (or simply Oros, which is the Greek word for mountain), starting from Anitseo and passing by Vlachides, Sfentouri, Achlada, Analipsi and Taxiarhes. The highlight is the unforgettable view from the peak, where you'll find the remains of an ancient temple to Zeus.